Move like you mean it.
Whether it's the ST-Line Hatch, Wagon or Active the Ford Focus is more than just a small car. It's a dynamic, agile and powerful companion ready to unleash every ambition. Redesigned from the ground up, this sophisticated car was made with one person in mind. You. The All-New Ford Focus is ready to get you moving like you mean it.
Build My All New Focus
Start by selecting a model.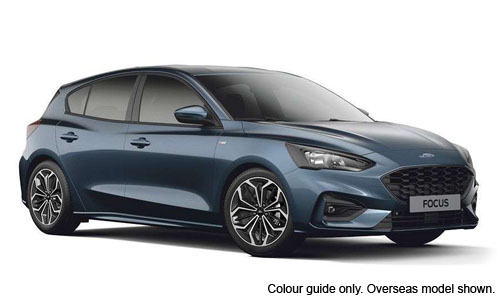 All New Focus Coming Soon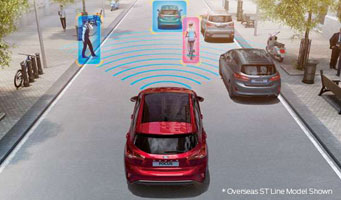 Technology with purpose
The all-new Focus is built to improve your driving experience in every way. Standard equipment includes a 180° Split-View Reverse Camera, making approaching rear cross traffic all the more visible. Above and beyond that, this next generation car is packed with an impressive set of Driver Assist Technologies including Autonomous Emergency Braking (AEB) with Pedestrian and Cyclist Detection, Lane Keeping Aid and Adaptive Cruise Control with Stop & Go capability. Together, these smart technologies can help manage acceleration, braking, and even steering. It's technology that's so effortless and useful, you'll wonder how you ever did without it.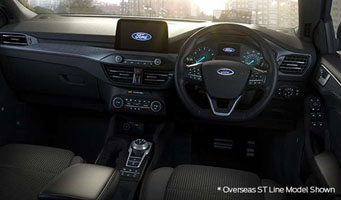 Comfortable and connected
Clean lines, a sleek layout and sophisticated look. The interior of all-new Focus is more comfortable, spacious and modern than ever before. And now, you and your car can stay connected wherever you are via Bluetooth to Ford's SYNC3 communication and entertainment system while using a new Wireless charging pad beneath the instrument panel, which automatically detects compatible devices to initiate charging. Supported by an 8-inch colour touchscreen compatible with Apple CarPlay and Android Auto, SYNC3 allows you to control audio, navigation, climate functions and connected smartphones using simple voice commands.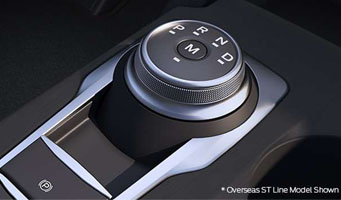 The power you want and the efficiency you need
The all-new Focus is available with a range of powerful and highly fuel-efficient engines, complemented by an 8-speed automatic transmission, rotary e-shifter, paddle shifters and drive modes. The exterior design has also been sculpted to create a shape that's both athletic and aerodynamic, whilst helping to improve efficiency even further.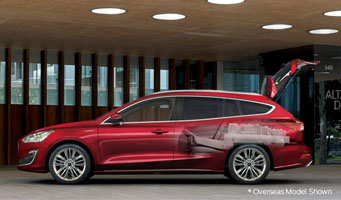 Room for everything
The brand new interior makes full use of every square millimetre of its space to give you the most versatile Focus ever. There's generous head, leg and elbow room at the front and back of the vehicle, so even your tallest passengers will feel comfortable. The rear seats split 60/40 and can fold almost completely flat to maximise space for your luggage. And there's an adjustable load floor in the boot, which can be raised to give you a hidden storage compartment, or lowered to increase space.

All New Focus Accessories
See all accessories available to enhance and customise your vehicle.